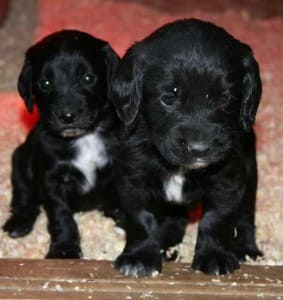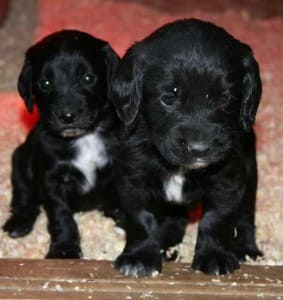 When is the right time to bring a new puppy into your life?
Bringing your first puppy home changes your life forever. Whether or not that change is positive depends on many factors, but picking the right time to have a puppy can make all the difference.
If you already have your puppy, check out How to Care for a Puppy for links to many puppy care articles.
Fitting in with children
When buying a puppy, it is a good idea to consider how your new friend will fit in with your family. Experienced dog owners usually cope well with mixing small children and puppies. But for a first-time puppy owner, it can be pretty stressful juggling the needs of a toddler and a puppy. You must also be vigilant about keeping small children away from a puppy's toilet area and his bottom! There is a risk of infection from the roundworms that puppies are susceptible to.
Avoiding stressful life events
If you are about to move home or planning your daughter's wedding, now might not be a great time to have a puppy. It makes sense to try and avoid significant life events or annual celebrations like Christmas around the time you bring your new puppy home.
Time of year
It is so much easier to care for a puppy in warm weather. Standing in the garden at 3 a.m. with a torch, waiting for a puppy to do a wee, is much more bearable if the temperature is not several degrees below freezing. And getting up for a puppy at 6 a.m. seems more civilized in daylight.
Late spring or early summer is a great time to have a puppy. By autumn, he will be able to sleep through the night, and you will have the long summer evenings to enjoy and make the most of his puppy loveliness!
How about you? Did you bring your new puppy home in the winter? Have you any tips for others about the right time to get a puppy?
If you found this article helpful, you might enjoy this series, The Ultimate Guide to Getting a Dog.